Welcome to ICKD 2017
2017 6th International Conference on Knowledge Discovery (ICKD 2017) will be held in Penang, Malaysia during November 24-26, 2017. It aims to provide a forum for researchers, practitioners, and professionals from both the industry and the academia to share their newest research findings and results.

ICKD is also The Annual Meeting of IJKE Editorial Board, so it also serves to bring authors and editors of IJKE together to communciate face to face and discuss chances for possible cooperation.
Publication
ICKD offers two options for publication of full your papers or abstract as follows: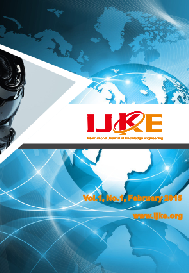 Option 1: Publication in Proceedings. Submissions will be peer reviewed by conference committees, and accepted papers will be published in proceedings, which will be indexed by EI Compendex, Scopus, etc.
Option 2: Publication in Journal. Submissions will be reviewed by the conference committees and journal editorial board, and accepted papers will be published in International Journal of Knowledge Engineering, which will be indexed by Google Scholar, Engineering & Technology Digital Library, Crossref, ProQuest, etc.
Option 3: For those who're NOT looking to publish their papers, it's acceptable to submit your abstracts to the conference, which will be sent to at least two techinical committees for a brief review, and it will take about 10 working days.
Welcome scholars and researchers working in the filed of knowledge engineering from all over the world to attend the conference and share your experiences and lessons with other enthusiasts, and develop opportunities for cooperation.
You're supposed to complete the registration first to attend the conference:
Register as Listener
You're simply required to fill out the registration form for listeners and send it to us via email before the registration deadline. We'll contact you after we review the form.

Register as Presenter (for abstract)
You need to submit the abstract of your paper to us before submission deadline. The conference committee will perform a brief review, and you'll be granted the chance to present your paper if it passes the review.

Register as Author (for full paper)
You need to submit your full paper to us before submission deadline. And you'll be informed of the review status of your paper by the notification date. Then your paper will be published into the journal if accepted, plus you'll be entitled to present your paper at the conference as well.
Important Dates
| | |
| --- | --- |
| Submission Deadline | June 30, 2017 |
| Acceptance Notification | July 20, 2017 |
| Registration Deadline | August 10, 2017 |
| Conference Dates | November 24-26, 2017 |
Latest News
June 6, 2017, News! Prof. Yoshifumi Manabe (Faculty of Informatics, Kogakuin University, Japan) will give a keynote speech entitled 'Fair allocation of divisible goods,' (Click)
June 1, 2017! The Conference Venue has been confirmed. ICKD 2017 will take place at OLIVE TREE HOTEL. (Click)

May 25, 2017, News! The Easychair submission system is useable now. Authors are encouraged to submit your papers via Easy chair.

Submission Method
Please submit your full paper/abstract via Easychair submission system using the following link:

Electronic Submission System; ( .pdf)
Full Paper (Publication & Presentation)

Follow the template when preparing your full paper:
For option 1. please use Paper Template; (.doc)
For option 2. please use IJKE Template; (.doc)

Abstract (Oral Presentation only, without publication)

Follow the template when preparing your abstract:
For option 3. please use Abstract Template; (.doc)